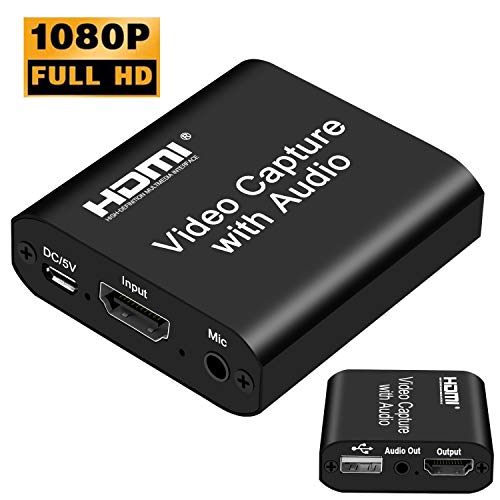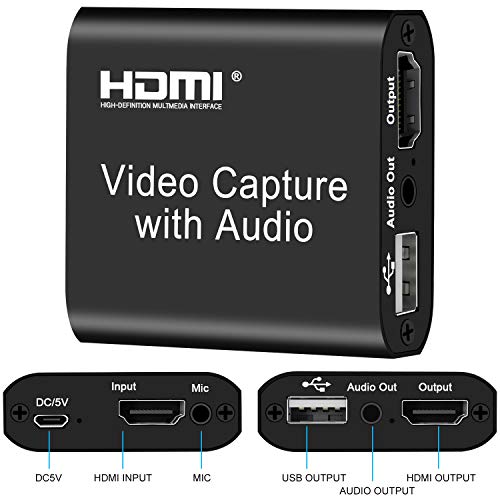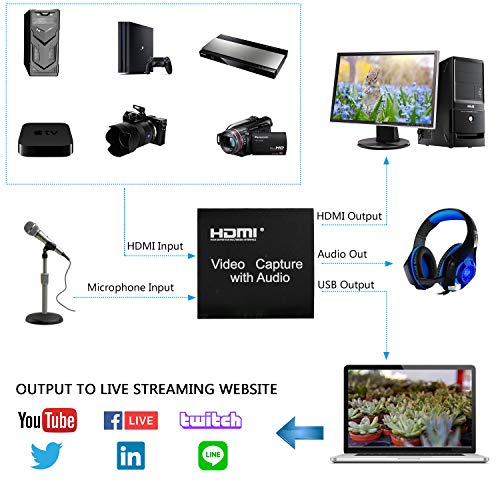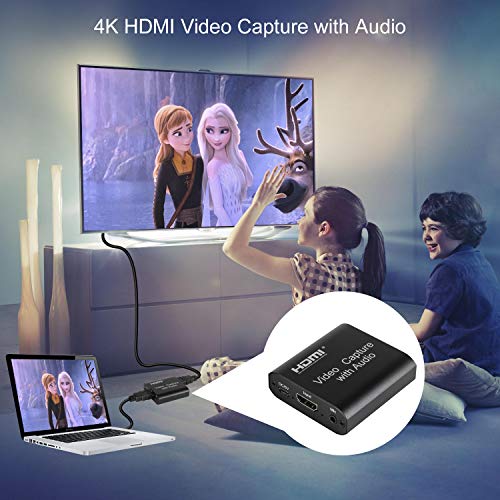 Audio Video HDMI Capture Card with Loop Out, USB 2.0 4K HD 1080P 60FPS HDMI Video Game Capture Card for Live Streaming for PS3/ PS4 /Xbox One/DSLR/Camcorders/Action Cam
【HDMI Capture Card】——This video capture device can be connected to the source HDMI interface devices (such as: PS3,PS4,NS switch, XBOX, computer, laptop, DVD,HD player etc). Supports software such as: VLC, OBS, Amcap etc. And it support Windows, Mac OS, Linux and Android Systems.
【Plug and Play】——Easy to use. No driver required, easily connect your DSLR, camcorder, or action Cam to your PC or Mac for game recording, share on youtube, facebook and twitter. Without external power supply, compact and portable.
【High Definition 1080P】——The HDMI capture connects to your video source and computer, and captures high-definition video up to 1080p 60fps, provide the realistic capture quality.
【No Latency HDMI Loop out】——Suitable for high definition acquisition, teaching recording, medical imaging, etc. The game capture card is suitable for no-latency game, very useful when you are making a game live streaming, also can meet the needs of the meeting.
【Easy Video Recording】——This video capture card can stream or record high-definition pictures of game consoles, meetings or other HDMI video/audio to your computer through capture software, or live broadcast/broadcasting over the internet easily.
Widely used for high definition acquisition, teaching recording, medical imaging, video conference, gaming capture.
,
,
Capture resolutions up to 1080p 60fps
It can capture one single channel HD HDMI video signals.The input and output video signal can reach 1080p/60hz, provide realistic video quality, very suitable for gaming, live broadcasting.
Support Multiple Systems and Platforms
Compatible with Windows, Android,Mac OS operations systems.
Support most common softwares,such as Facebook Live, OBS, YouTube, Twitter, Twitch, Google Play, Skype, Xbox One etc.
Package Include
1x Video capture card
1x USB cable male to male
1x Micro USB cable
1x User manual